Now in its 11th year, this annual survey conducted in collaboration with the Department of Health and Human Services, Office of the National Coordinator (ONC) gathers data that informs policymakers, providers, researches and vendors on health IT adoption, tools and trends. Spot opportunities, shape questions based on an unparalleled view of over 3,500 hospitals.
Find the latest on:
EHR vendor satisfaction and plans to change vendors
Key domains of interoperability
Barriers to interoperability
New Data Available
Bar coding or radio frequency identification for closed-loop medication tracking
Electronic prescribing of controlled substances
Patient ability to view clinical notes online
Barriers in the transition from manual to fully or primarily automated reporting
Use of EHR data to track the amount of time clinicians spend on documentation
Electronic methods to search for and view patient health information from outside providers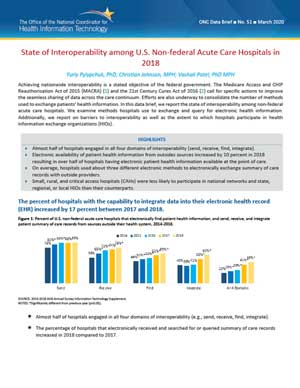 ONC Data Brief
Interoperability among U.S. Non-federal Acute Care Hospitals
Discover how the Office of the National Coordinator for Health Information Technology uses AHA Data in this ONC Data Brief on interoperability in acute care hospitals.
Download
Connect with us
Drive better outcomes
Get the hospital data you need to discover key insights delivered by a trustworthy source.