Identify
Uncover opportunities to retain patients, improve safety and integrate new technologies.
Benchmark
Track where you stand within your peer group on HCAHPS, volumes, utilization, payment models and more.
Access
Understand the market's movement to address social determinants, population health strategies and new payment models.
Activate
Use data-driven insights to drive profitable results.

Strategic Planning
Drive new organizational strategies. Define your competitive cohort and develop comparative insights within your region by understanding important industry benchmarks and foundational data, including utilization, technology usage, payment models, and much more.

Marketing Communications
Changes in the market size and composition, trends in market growth and demand are important for assessing how your hospital or health system brand is performing in the market and how well you should expect it to perform in the future.

Quality Management
Develop improvement goals, quality initiatives, and measures that promote high quality care by benchmarking for patient satisfaction, readmissions, and standardized infection rates at the hospital or system level.

Workforce Management
Know where you stand and determine whether your labor strategies are on the right track. See how hospital-provider relationships and hospital-physician relationships have changed over time at the national and state levels, and by type of relationship.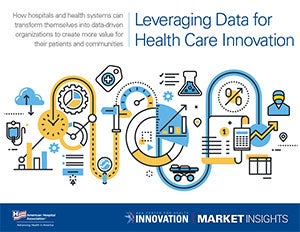 Report
Leveraging Data for Health Care Innovation
This report offers hospital and health system leaders a blueprint for becoming an organization that leverages data for health innovation and for improving clinical, financial and operational performance.
Get the Free Report
Connect with us
Did you know that members qualify for discounts on AHA's market-leading data solutions?
To learn more, contact us at 312.422.3000 or support@aha.org or complete the form below.