Tapping into the most credible, consistent and accurate information about the nation's hospitals has never been easier.
Since 1946, the American Hospital Association has been gathering the most accurate and extensive information about the nation's hospitals and health systems. Combining this information with data from the Centers for Medicare and Medicaid Services yields the single best source for credible, consistent and current information about the nation's hospitals.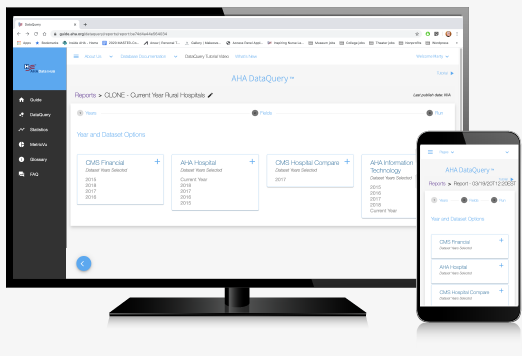 Your insights, your way.
Define and segment your market
Identify your best targets
Gain facility-level insights provided by more than 6,200 hospitals and 400 health care systems
Understand hospital affiliations
Identify potential partners
Features
Simple and easy to use interface
Merge AHA datasets with an expanded offering of publicly available data, including quality metrics and financial data, into one report
Create, save, and re-run custom reports or choose from a library of pre-built templates
Share reports with other users
Responsive, mobile friendly design
Hospital demographics updated daily
Connect with us
Drive better outcomes
Get the hospital data you need to discover key insights delivered by a trustworthy source.