Before you can develop an effective strategy you need to know where you stand. AHA MetricVu™ allows you to do just that.
It's never been easier to leverage the nation's most trusted hospital and health system data to improve your understanding of the current environment and your opportunities.
You've got questions. We've got answers with these key metrics: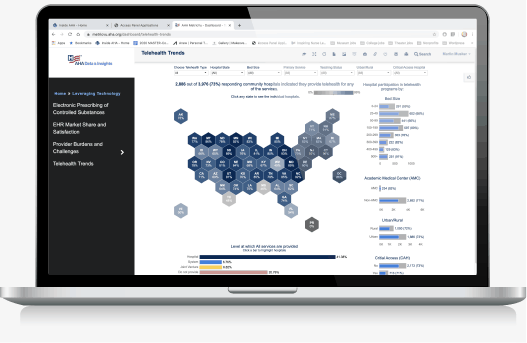 Hospital Compare

Patient experience (HCAHPS)
Readmissions
Safety of care

Financial Insights

Alternate Payment Models
Medicare Market Share
5 year hospital financial trends

Technology Benchmarking

Telehealth Trends
Digital Technology Adoption for Consumer Engagement
EHR Market Share and Satisfaction Rates

Policy Drivers

Behavioral health integration
5 year utilization and volume trends
Hospitals' economic impacts
Interactive and Shareable | Speed up your data analysis with these key features:
Easily use filters to create and save custom visualizations that highlight data and insights important to your work
Export to PDF, image files or PowerPoint
Email data visualizations to your colleagues
View visualizations from desktop, tablet and mobile devices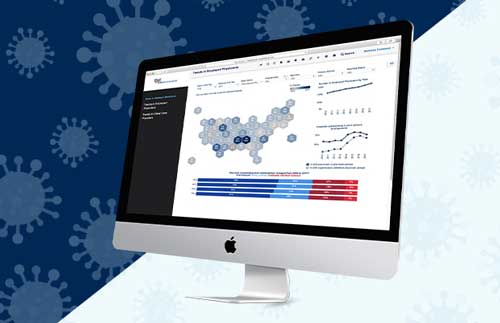 COVID-19 Dashboards
Visualize total hospital bed and adult ICU bed capacity by state, Health Referral Region, and Health Service Area
Identify potential bed shortages by state caused by COVID-19 according to three different scenarios
View the percentage of non-COVID patients occupying beds
PLUS: Layer individual healthcare facility locations on to the interactive map and tailor results by poverty rate and the uninsured rate
Connect with us
Drive better outcomes
Get the hospital data you need to discover key insights delivered by a trustworthy source.